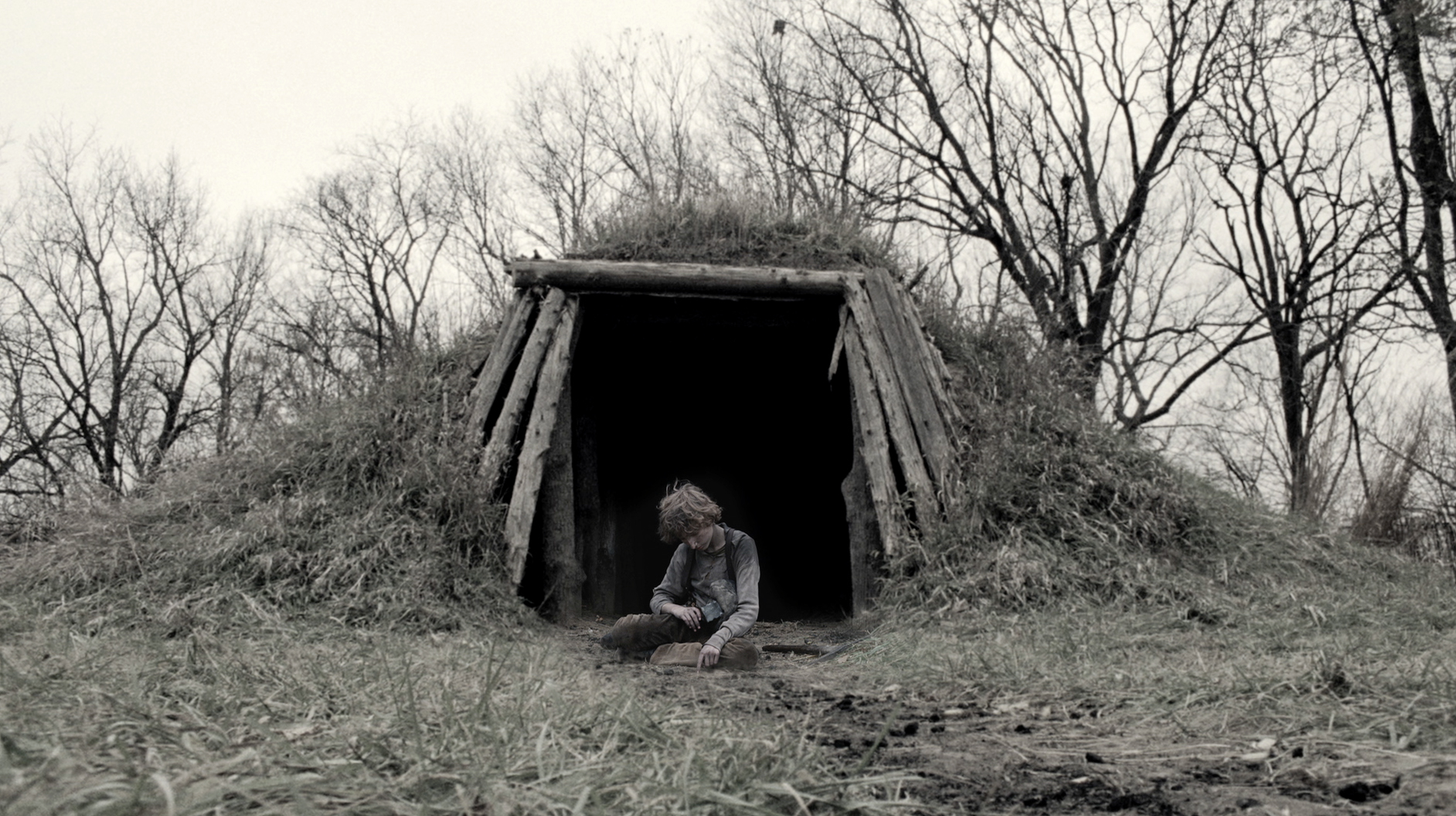 BLACK CANARIES (2016)
Isolated, desperate, and haunted by his coal-stained birthright, Father continues his daily descent into the accursed Maple mine—even after it has crippled his ancestors and blinded his youngest son. Set in 1907 and based on director Jesse Kreitzer's own coalmining heritage, Black Canaries is a powerful meditation on patrimony, loyalty, and love.
NOW SHOWING
PBS
Vermont PBS
Omeleto
Booooooom TV
Film Shortage
CAST
Father - Patrick Towne
Mother - Ananka Kahlmeyer
Boy - Andrew Stewart
Grandfather - John Connet
Child - River Quinn
Photographer - Peter Taft
Narrator - Lawrence Steuer
CREW
Writer, Producer, Director - Jesse Kreitzer
Director of Photography - Daniel Cojanu
Editor - Jesse Kreitzer
Assistant Camera - Aaron Riggs, Matt Bressoudt, Joshua Yates
Production Sound - Brian MacQueen
Gaffer - Max Moore
Grip - Ruokun Yi
Original Music - Jose Parody
Sound Supervisor - Austin DeVries
Sound Design - Austin DeVries, Filipe Antunes
PAs - Alina Kulpaviciute, Joseph Mulvania, Chenchen Zou
Additional Camera - Jesse Kreitzer
Costumes - Sasha Hildebrand
Props - Tim Linden
Fiddle - Eric George
Scenic Design - Leslie Delavan, Richard Burke
Visual Effects - Zachary Hayes
Storyboard Illustrator - Benjamin Mackey
DONORS
DOWNLOADS
Press Stills
Storybook (Concept Art)
Reference Material
Trailer
STATUS
Complete / Now Streaming
OFFICIAL SELECTION & AWARDS
PBS Online Short Film Festival
*Juried Prize Winner
Film Shortage - Featured Weekly Short
Booooooom TV!
Directors Notes
Big Sur International Screening Series
Film Fest Petaluma
Crossroads Film Festival
Oxford Film Festival
*Honorable Mention, Best Short Film
Tacoma Film Festival
*Nominee, Best Short Film
FliXX Fest
*Best Production Design
Ashland Independent Film Festival
*Special Jury Recognition for Short Film
White River Independent Film Festival
Promofest Short of the Year
*Special Jury Mention
Green Mountain Film Festival
Woodstock Film Festival
*Finalist, Best Short Film
Oldenburg International Film Festival
*Nominee, German Independence Award - Best Short Film
Vermont International Film Festival
*Winner, James Goldstone Award for Emerging Vermont Filmmaker
*Winner, Best Cinematography
Middlebury New Filmmakers Festival
*Vermont Symphony Orchestra Award for Music Integration
HollyShorts Film Festival
*Grand Jury Award, Best Film
*Grand Jury Award, Best Cinematography
Provincetown International Film Festival
*Grand Jury Award, Best New England Short Film
Woods Hole Film Festival
*Director's Award, Best Cinematography
Rural Route Film Festival
Huesca International Film Festival
IFFBoston
Rainier Independent Film Festival
Julien Dubuque International Film Festival
*Nominee, Best Student Film
Newport Beach Film Festival

DIRECTOR'S STATEMENT
My great-grandfather Thomas Clarence ("T.C.") Chapman was a coal miner from Maple, Iowa. At 11, he lost his father and went to work in the mines as a breaker boy, sorting shale from coal. In his 30s, he befriended labor pioneer John L. Lewis and fought to strengthen unions and protections for miners and their families. He spent the rest of his life as a mine safety inspector and died bedridden in 1962. Growing up, that's about all I knew about my mother's Midwestern roots.
Compelled to know more, I moved to Iowa in 2013 and spent three years unearthing stories of my family's past. Extended relatives welcomed me with open arms to share childhood memories, dusty photos, family keepsakes and relics from Iowa's coal camps. Together, we drudged through state and county archives to piece together a lineage fragmented by time and corroded by coal dust. Black Canaries is an ode to ancestors, honoring not only my own family's history, but a collective cultural heritage formed in the blackened depths of Americana.
QUOTES
"[A] flat out masterpiece of a piece of art!!! [Kreitzer is a] mind-boggling talent and the world needs to see more of what [he] can do!"
-Steven J. Bellamy, President of Kodak Motion Pictures
"Black Canaries is a technical marvel. The film recreates a world lost to time, and this artful period piece pays tribute to lost generations of miners, acknowledging their indomitable Middle American work ethic and concurrent aspirations." -Warren Etheredge, AIFF Juror
"With truly stunning cinematography and sound design, this hauntingly beautiful story has an almost documentary feel as Jesse recreates the world of his ancestors. The performances are truthful and authentic, and the film is both timeless and relevant. I was so moved, and mesmerized."
-Joanne Feinberg, FeinFilm/Former AIFF Senior Programmer

"Stark, imaginative and well-made, Black Canaries really brought you back to another world. The sparse narration made the emptiness palpable." -Eric Gulliver, Producer/Editor for American Experience

"Black Canaries romanticizes a time and place without forsaking its grim realities. Its abstract story structure and unkempt appearance might initially seem off-putting but wipe away the dirt and you find a story that's been told many times over, but rarely with this much consideration."
-Hunter Lanier, Film Threat
Film Threat, Black Canaries
Directors Notes, Black Canaries by Jesse Kreitzer
Backpacker Guide to Creativity in VT, The Vision of Black Canaries
Jackson Free Press, Haunted by Black Canaries
Ashland Daily Tidings, AIFF Awards Announced
Little Village, UI Film Grad Wins Back-to-Back Grand Jury Prizes
Iowa Alumni Magazine, Letters to the Editor
Berklee College of Music, Students Create Score...
Iowa Alumni Magazine, Feature: Black Canaries
Little Village, Mining Family History
Little Village, Jesse Kreitzer Unearths the Past
Iowa City Press Citizen, Inspired by Ancestors
Seven Days, Canaries in a Cinematic Coal Mine
Daily Iowan, Mining Cinema
The Commons, Driven to Tell Stories
Boston Globe, Are There Contenders in the Glovebox?
Lanterna, Newsletter Campaign
Kickstarter, Crowdfunding Campaign
THE CHAPMAN/HOLLAND FAMILY